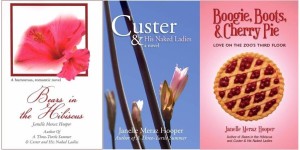 My book, short stories, and plays website: Janelle Meraz Hooper
Books last longer than flowers!
Bears in the Hibiscus
 The humorous dialogue in my character-driven stories has to be read to be appreciated. Mark, the Montana Park Ranger, will warm your heart AND keep you laughing. His friend, Jackson, who owns an outdoor catalog company that sells Northwest outdoor gear (and flies his own plane) should be cloned. He is a doll! Of course, as in any good story, Mary has her challenges. Her ex sister-in-law who abandons her two girls to get rich raising emus is just one. Set in the Northwest and other locations. Paperback, eBook. Internet bookstores.
Boogie, Boots, & Cherry Pie
For New Adults (NA) and up, I'm offering Boogie, Boots & Cherry Pie. A Seattle romance with a Jamaican flair, Boogie is a lighthearted romance for animal and jewelry lovers.
When the great guy that Lily meets at her company's St. Patrick's Day party takes her home he discovers she lives at The Zoo, an apartment building that caters to tenants who have exotic pets. Unfortunately, one of the animals is missing and when Mike drops her off the first thing he sees is a sign on the front door:
Please Don't Let Out The Snake!
While Lily is trying to figure out how Boogie, a big boa constrictor, is getting into her apartment, Mike, her new boyfriend, has his own problems. He's a jewelry designer who is in danger of defaulting on a contract because all of his workers live on a flood plain and the river is rising. When it finally floods, everyone, including their pets, disappears without a trace. Suddenly, Mike isn't worried about his business anymore. He's worried about his workers and their families. Are they okay? Where could they be?
Filled with lively characters including: a Jamaican landlady, Reggae, whose traditional headdress holds her phone, iPod, and assorted office supplies; her boyfriend Mingo who thinks he doesn't fit in; and Velma, a tenant who collects snakes—big ones. Tension rises when Reggae and Lily begin to fear that Boogie is stalking Boots, Reggae's pet iguana. Set in Seattle. Paperback, Kindle. Internet bookstores. Published by CreateSpace.
Custer & His Naked Ladies
Don't panic! Custer is just an old yeller dog, and Naked Ladies are flowers that grow in Oklahoma.
At Sea-Tac airport, Glory takes the framed photo of her husband out of her gym bag and dumps it, frame and all, into the nearest trash receptacle before she boards a flight to Oklahoma.
She has wasted too much time on a man who no longer wants her and she can almost hear her biological clock starting to rust.
When she arrives in her hometown, her mother, and sisters are there to greet her. She'd like to move permanently to Oklahoma, but there are problems. Can she rejoin a tribe whose members may have killed her beloved stepfather, Pete? Also, her mother and sisters are in the middle of a struggle with the tribe because they want to use her land to put up a casino. Another tribe, a mafia tribe from back east, not only wants a casino, they want to control it.
A childhood friend, Soap, is now a lawyer, and is about the only thing standing between her mother and the mobsters. Unfortunately, Glory and Soap get off on the wrong foot, and an unwanted visit from her greedy, hateful stepmother doesn't help matters. True Southwest flavor, set in Oklahoma. Paperback and eBook. Internet bookstores. Published by iUniverse.