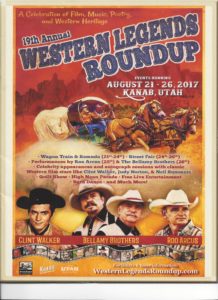 Rudy will be back for 2 more performances in 2018!
Geronimo, Life on the Reservation, starring Rudy Ramos, had two amazing performances at the Crescent Moon Theatre in Kanab, Utah. What a jewel of a theatre–it would have been worth the trip to see the theatre alone! A special thanks to Jeffrey Turner, manager, who made us feel so welcome and for finding my glasses that I lost during the performance!
Going to the Kanab Western Legends Roundup and Film Festival turned out to be one of the best trips of my life. Who knew? Actually, my main intention of the trip was to see Rudy perform his Geronimo, Life on the Reservation two more times, but I truly fell in love with Kanab and the other participants in the event. Right next door to us were the Wyatt McCrea's, Joel McCrea's grandson, On the other side was Rudy Ramos and his wife. Don Collier, Neil Summers, and Jeff McCarroll were on the end of our row. I could go on and on. The morning we left I woke up about 3:30 AM thinking I have to stay at least two more days. I NEED two more days! I feel a book here.
It's the same feeling I got in Tombstone (It's in my latest book—A One- Way Cruise to Africa–still without a cover! Hopefully it'll be out by Christmas on Kindle.) As I've said before, as an indie-writer, it's just me behind the curtain here–these things take time!
---
---