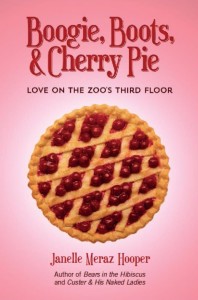 New cover!
Boogie, Boots & Cherry Pie
Amazon and others- paperback & Kindle- suitable for New Adult and up.
Janelle Meraz Hooper
See my other books and short stories: Janelle Meraz Hooper
When the great guy that Lily meets at her company's St. Patrick's Day party takes her home he discovers she lives at the Zoo, an apartment building that caters to tenants who have exotic pets. Unfortunately, one of the animals is missing and when Mike drops her off the first thing he sees is a sign on the front door:
Please Don't Let Out The Snake!
While Lily is trying to figure out how Boogie, a big boa constrictor, is getting into her room, Mike, her new boyfriend, has his own problems. He's a jewelry designer who is in danger of defaulting on a contract because all of his workers live on a flood plain and the river is rising. When it finally floods, everyone, including their pets, disappear without a trace. Suddenly, Mike isn't worried about his business anymore. He's worried about his workers and their families. Are they okay? Where could they be?
Filled with lively characters including: a Jamaican landlady, Reggae, whose traditional headdress holds her phone, iPod, and assorted office supplies; her boyfriend Mingo who thinks he doesn't fit in; and Velma, a woman who collects snakes—big ones. Tension rises when Reggae and Lily begin to fear that Boogie is stalking Boots, Reggae's pet iguana.
---
Kindle and others. Soon in paperback. Suitable for NA (New Adult) and up.
Janelle Meraz Hooper is an award-winning writer originally from Oklahoma who now lives in Washington State.
Please share this post.