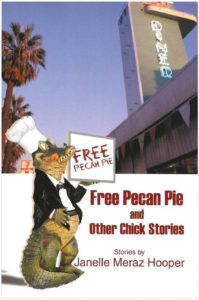 This Far From Homeless
An excerpt from Free Pecan Pie and Other Chick Stories
Janelle Meraz Hooper
My website: Janelle Meraz Hooper
Living on the streets of Seattle isn't easy…
Macky glanced into the office window as he shuffled by. There it was—the
chalk. Macky had to have it before he went home. He couldn't take his eyes off
of its slender form as it rested on the powdery tray below the blackboard. It
was about six feet away from the front door; stealing it would be risky. Macky
nervously paced back and forth on the sidewalk. He had to be careful not to
alert the secretary inside that he was watching the chalk. Watching her. He
could have scrounged enough money to buy a piece of chalk, but where? Stores
in downtown Seattle didn't sell piddley stuff like chalk.
It was getting late; he had to make his move soon. Not only would the office
be closing, but a storm was on the way. There was no door and no lock to his
home on the street; if he didn't get back soon, someone else might move in.
His friend, Leo, always tried to save him a spot, but he was a small man, and no
match against the bigger homeless men who slept underneath the freeway
overpass. There was enough space under the bridge to keep eight men dry on a
cold, rainy night. No more. It was first come, first serve—unless a man bigger
than you wanted your spot. Whenever that happened, the best thing to do was
just roll up your bedroll and skedaddle. No spot was worth dying over…
Read the book- Free Pecan Pie and Other Chick Stories, paperback and Kindle, suitable for YA and up. Amazon and other Internet bookstores. Published by iUniverse.
---
If you like this excerpt, please share!