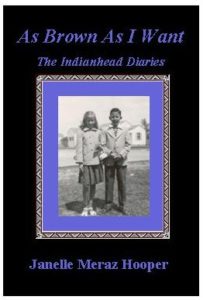 As Brown As I Want: The Indianhead Diaries
The Adventures of Little Paintbrush and Snake Belt
Janelle Meraz Hooper
My website: Janelle Meraz Hooper
A black comedy-
The summer of 1952, Lawton, Oklahoma… Eight-year-old Glory has a father who has taken out a $50,000 accidental-death insurance policy on her–now he's spending the summer trying to collect.
In his first attempt, he throws Glory into a snake-infested lake, but a giant snapping turtle that Glory has been feeding scares the snakes away.
Glory writes in her diary: "Well, Powwow Pete drove us home to talk to Mom but we didn't get very far. Mom thinks I just have a wild imagination. At least Powwow Pete believes me. I think it was the turtle that killed it for Mom.
"How could there be a turtle that big?" she scoffed. They talked some more and Powwow Pete got kind of mad and got up to leave.
This was one of those times when a kid thinks they're talking about a turtle but the grown-ups are really talking about something else entirely. In this case, I think Pete was accusing Mom of still loving my dad, but he never said that, he just kept talking about the turtle. Mom was doing the same thing: talking about the turtle but meaning she didn't want to get messed up with some guy who was a pathology liar (Glory can't spell).
---
Read the book- Paperback and Kindle. Amazon and other Internet bookstores. Suitable for all ages, YA (Young Adult & up).
---
Awards
1999 Surrey, BC, 1st place fiction award.
2004 Oklahoma Book Awards finalist.
---
NEXT IN MY TRILOGY: Glory is all grown up in Custer & His Naked Ladies
Books in order:
A Three-Turtle Summer
As Brown As I Want: The Indianhead Diaries
Custer & His Naked Ladies
---
Reviews
"Hilarious!" an Oklahoma reader
"I love your second book. You have masterfully written in a style befitting a child, so fresh and natural, handling a very serious subject in a way to  make reading easy, even if it makes one's heart thump." Elfi Hornby, author.
"I read your book, As Brown As I Want. I thought the book was so good. I couldn't stop reading and I got into trouble for reading it in class because I just couldn't put it down." Valerie, a student.
If you like this post, please share!