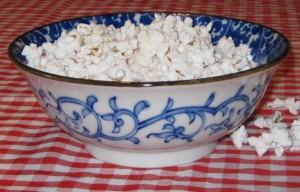 Not published, written for this blog.
My upgraded popcorn bowl
A comment
Janelle Meraz Hooper

   Years ago, I looked at the interior of my home and decided it was cluttered. What to do? What to do? I'd clean it, and pretty soon, it was cluttered again. I didn't like it one bit. Because (for too many reasons to list), I couldn't eliminate the clutter, I decided to take a different approach: I set upon a mission to make the clutter I had more beautiful.
For instance: That metal popcorn bowl on my coffee table that used to drive me crazy was traded up for a beautiful china bowl in a cobalt blue pattern from a local store specializing in Asian house wares. I bought a wicker basket to hold my old newspapers. The firewood was in a cardboard box, so I got a tin bucket from my favorite department store to keep firewood in. Dirty napkins and dish towels now have their own stylish stainless steel trash basket in the corner of my kitchen. All of these items are stylish, but inexpensive. And I didn't upgrade my clutter all at once. Got clutter? Can't get rid of it? Make it beautiful!
Why am I mentioning this now? Because it's an ongoing project! Just recently, I ordered a lidded square basket from eBay. It sits by my keyboard. Each day I clear off all the papers on my desk and store them in my new basket. Believe me, it looks a lot better! And it enables me to start each day with a clean desk top!
---
www.amazon.com/author/janellehooper
Facebook, YouTube, Twitter
If you like this comment, please share.