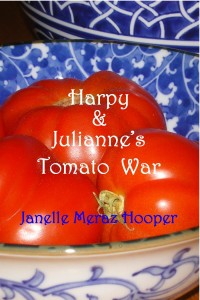 Harpy & Julianne's Tomato War
a short story
Purchase on Amazon
My website: Janelle Meraz Hooper
It's spring! and I thought my readers who garden would like to see a few lines from my new short story. It isn't on my website yet, but it is available on Amazon.
Harpy and Julianne's Tomato War
Janelle Meraz Hooper
AN EXCERPT- 1970, Lawton, Oklahoma…On a street in the older part of town, Harpy & Julianne, two gardening senior citizens, wage war over seemingly little things like roses and tomatoes. The trouble began with nineteen cats and prize roses and culminated with a dog named Killer, a racehorse named Moon Dancer, tomatoes, and lemon cake.
"…Everyone had a hustle in their bustle and the air pulsed with excitement when it was Tomato Festival time in Julianne's hometown of Lawton, Oklahoma. A parade began the festivities that was followed with a tomato-growing competition, and canning competition. Vendors of every sort lined both sides of the streets and artists set up white tents for their art show in the park under the leafy trees. Near the picnic tables, all of the different organizations sold food to raise money for their clubs. The polka club sold sausages and sauerkraut; the Flamenco Club sold a Mexican plate with beans, rice, and enchiladas; The Mahjong Club sold a stir-fry dish served over white rice; and the Comanches sold fry bread. Live music ranging from classical to blue grass floated over the excitement, each style melding into the next.
On the outdoor stage, music teachers held their students' yearly recitals in music, voice, and dance. Next, children would line up on the same stage to show off their skills in the Asian martial arts, wrestling, and baton twirling. The fun would culminate in a barbecue and a street dance when the sun went down and it cooled off. While the adults danced, a big movie screen showed cartoons for the kiddies, most of whom fell asleep with homemade ice cream all over their faces before Tom caught Jerry or the Roadrunner outwitted the Coyote.
Julianne especially liked the parade. Luckily, the floats and marching bands always lined up on "A" Avenue, right in front of her house, so she had a front row seat without leaving her porch. It seemed that every year at least one of the floats had some sort of mechanical crisis—usually a flat tire—or a decoration that failed to stay put—or a sound system that didn't work. Each time, the men on the parade committee would descend upon the float that threatened to hold up the start of the parade in an old pickup. Its back was filled with all kinds of quick-fix items known to be useful from years of experience: hammers, saws, staplers, rope, wire, two by fours, and especially duct tape. As soon as the crew would fix one problem, another distress call would come in from another float. Every crisis and its resolution made for great entertainment for Julianne and the friends she invited to share her front porch.
They were a happy bunch and they'd all been friends for years. Belle had been one of Julianne's bridesmaids. Trude and Vera were sisters who each brought their husbands every year. And, of course, there was always Joe. Joe had gone to high school with Julianne and they'd both gone on to graduate from Cameron University together. Of course, it was just Cameron College back then. The guest list was the same every year and every year Julianne sent out handwritten invitations to Potluck on the Porch! BYOP (Bring your own pot!)
Harpy, Julianne's cranky next door neighbor, never joined Julianne and her friends even though he was always invited. He stayed inside his house with the windows and doors closed saying that all the racket the kids made interfered with his baseball game. The stubborn man didn't have air conditioning, and Julianne wondered how he could stand the heat in his little house with the doors and windows shut tight. It had to be sweltering in there. Maybe he filled his bathtub with ice cubes from his fancy refrigerator and listened to the baseball game on the radio in his bathroom. But it didn't really matter to Julianne what he did…or why. Harpy was just like that. He didn't like kids. He didn't like her friends. He didn't like Julianne. He especially didn't like her cats! Other than not liking Julianne because of her cats, the only other reason she could figure out for his hostility toward her was he didn't like it when she wore her nightgown and robe on her back porch when she fed her cats in the morning. "You're dragging your robe through the cats' water!" he was known to shout from his back porch. Why did he care? Why on earth he went into such a tailspin over a little wet lace around the bottom of her robe she'd never understand…"
---
Available on Amazon Kindle. Suitable for all ages.
If you like this, please share!
Visit me on the web to see my other books, short stories:
Facebook, Twitter, WordPress, Pinterest
cover by author.