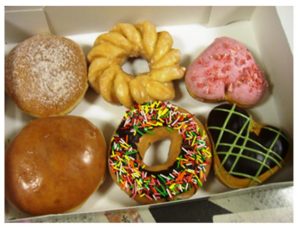 New business idea! Donuts by Drone
Janelle Meraz Hooper
www.JanelleMerazHooper.com
I have a new business idea. My first idea was to sell chocolate Easter bunnies with extra ears. That would have worked but it was too seasonal. I totally underestimated how early I needed to start to get all those ears cut off and packaged. Then, I was going to make sweatshirts for writers that were already messed up with ink marks. It turned out that all writers already have a stack of them that they made on their own. My new idea is drones that will deliver doughnuts early in the morning. Don't tell anyone. I'm afraid Amazon.com will steal my idea…and they already have the drones. All I have so far is one of those balsa planes that has a wind-up rubber band to make the propeller work. I'm trying to figure out a way to make the rubber band also work to carry the doughnut sack. So far, it's a work in progress. Sign up for delivery now!
---
I write some serious stuff too: Books, short stories, plays.
Check them out!
www.JanelleMerazHooper.com