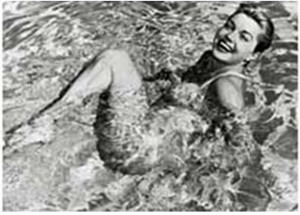 Esther Williams
A comment
Esther Williams passed away today. When I was a kid in the 50s, she was a favorite of mine. Here's a snip of what I wrote about her in my YA book, As Brown As I Want; The Indianhead Diaries:
…At the beginning of the wildlife refuge, there's a beautiful pond on the top of a red sandstone hill. It's my favorite spot. The water is clear and deep and the whole edge is surrounded by huge red, sandstone boulders. It's the kind of place Esther Williams would like to do the backstroke in with a gardenia behind her ear, except I don't think she'd like the snakes…
Rest in peace, Esther. You were one of the few real, true Hollywood stars. Janelle
---
www.janellemerazhooper.com  See my books and short stories!