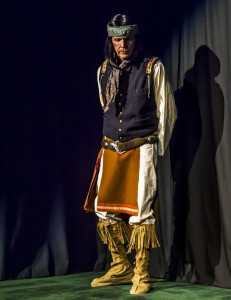 New bookings for Geronimo!
Note: This is an old post. Since I wrote this, Rudy has taken his Geronimo show to  many theatres, including The Joel & Frances McCrea Ranch in Thousand Oaks, CA and two shows during The Western legends Roundup and Film Festival.
Currently, he's working on Kevin Costner's Yellowstone that will premiere during Summer, 2018 on Paramount Cable.
2015
The Whitefire Theatre– Sheman Oaks, CA, every Sat. night from Jan. 3rd-Feb. 7th,
The High Chaparral Reunion, Casino del Sol, Tucson, AZ , March 21
Alburquerque, NM, March 28, 2015
Muskogee, OK, April 4th
Winnsboro, TX, April 11th & 12th
The Memphis Film Festival, June11-13
GERONIMO,
Life on the Reservation
Starring Rudy Ramos
Directed by Steve Railsback
Written by Janelle Meraz Hooper (Visit her website)
This is a story about the last 23 years of Geronimo's life as a prisoner of war. It starts with his final surrender in 1886.  After stops in Florida and Alabama prisons he was sent to his final stop at Ft. Sill Oklahoma where he spent the last 15 years of his life.  It focuses on the resiliency, humor and genius of the great Apache warrior.
In this presentation, Geronimo cleverly evolves from a surrendered Indian leader into a celebrity and entrepreneur.  Keenly aware of how to work the political system he joins the same church that Theodore Roosevelt belongs to and rides in his Inaugural Parade.  Although he isn't successful in getting everything he wants he certainly succeeds in making the best of his situation.
Geronimo was never beaten.  He simply adapted to his present circumstances.
"To my knowledge no one in the history of American stage has ever played him or told his side of the story at this stage of his life.  I am honored to play him and give him the voice he deserves… the voice he never had."  – Rudy Ramos
Tickets are now available through Brown Paper Tickets at www.brownpapertickets.com or call (800) 838-3006.
The show will play on Saturdays at 8:00 pm January 03, 10, 17, 24, 31 and February 07 at the Whitefire Theatre 13500 Ventura Boulevard  Sherman Oaks,  CA  91423   www.whitefiretheatre.com
Valet Parking is at the Boneyard Bistro  13539 Ventura Boulevard  Sherman Oaks,  CA  91423.  It is 1/2 block west of the theatre.
 Don't miss this one-man show! Rudy does a wonderful job of portraying this multi-faced Native American. I thank Rudy from the bottom of my heart for the opportunity to work with him and Steve Railsback (Director) on this well-received performance! More information can be found on www.GeronimoLifeontheReservation.com/