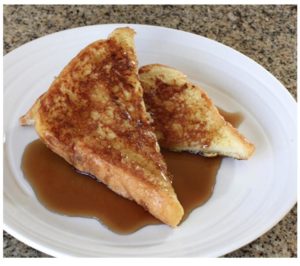 Janelle Meraz Hooper
(Try my books, they're a good read, I promise!)
A new French toast recipe
Early this morning, I was sleepy, under-caffeinated, vision-impaired, and behind schedule. This happens to independent, free-lance writers a lot. Nonetheless, like the woman on the tee-shirt, I persisted. I slapped the button on the coffeemaker, threw a piece of French toast in the skillet and turned the burner up until the flames almost licked the outside of the skillet. I was in a hurry. Question: has anyone else noticed how, at 5:00 AM in the morning, the bottle of maple syrup and the bottle of balsamic vinegar are surprisingly similar? I didn't have time to start over. But I have to say the combination of sweet, balsamic vinegar is not totally unpleasant…especially if you wash it down with enough coffee.
---
Follow me on Facebook and Pinterest (search: Janelle Meraz Hooper)

Check out my books! They're a good read, I promise!