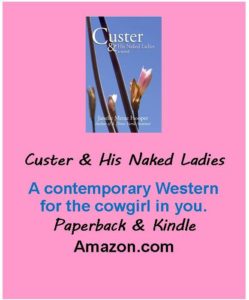 The third book in my Turtle Trilogy. In the first book, Glory is five-years-old. In Custer, she's a grown woman relocating back to her Oklahoma home from Seattle. She's facing a lot of problems, including a divorce, childlessness, and pressure on her mother by the New Jersey mafia to sell her land so they can build a casino. Her biggest problem of all may be Soap, a life-long friend who wants to help her solve her childless problem…
Sprinkled with Spanish phrases and Comanche words,
Custer & His Naked Ladies is full of Southwest Oklahoma flavor. Suitable for New Adult* & up. Paperback and Kindle. (New Adult is the rating that comes right after Young Adult.) Published by iUniverse.
*Note: Naked Ladies are flowers in Oklahoma.