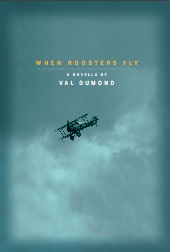 When Roosters Fly
Val Dumond
www.ValDumond.com
Amazon, paperback $14.95 & Kindle $3.99
Here's a Valentine idea! Looking for a love story about people old enough to be you in a few years? Not as impossible as waiting for a rooster to learn to fly. Check out Val Dumond's new novella, When Roosters Fly.
A grumpy old pilot, disappointed he didn't make aviation news back in the 1930s, meets an energetic woman (almost his age) who builds authentic replicas of vintage planes. She stirs hope in the pilot that he can realize his dream — along with a few other emotions. You don't want to miss the "love scene" in the clouds!