www.JanelleMerazHooper.comI wanted an illustration to use to highlight news about my one-man show on my websites. Sherri Bails did this for me. She's also illustrating a children's book of short stories for me titled There's a Mouse in the House!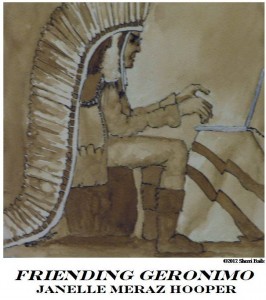 Friending Geronimo

Janelle Meraz Hooper

"…I had to steal the laptop. I need to tell the truth about the Apache people.The white men will never tell the whole story. They control everything that's said about us in newspapers and books. Even the maps are slanted toward the whites. Look and you'll see they're dotted with each place we fought the white soldiers. Look closely. You'll see that if the soldiers won, it was a battle. If we won, it was a massacre…"  A one-man show in partnership with Rudy Ramos.