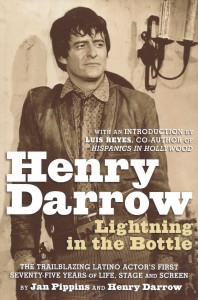 Henry Darrow
I met Henry at the 2014 High chaparral Reunion. what a nice guy; his fans love him!
Henry Darrow (born EnriqueTomás Delgado) overcame life-threatening illness, crippling anxiety and prejudice to become internationally famous as sexy, complex "Manolito Montoya" in the western The High Chaparral (1967-1971). He was the first actor of Puerto Rican heritage to star in a television series. "Henry survived and had a career when if you were Latino, you couldn't be just good, you had to be beyond great and that's Henry," says noted writer/entertainer Rick Najera. At the height of his fame Darrow put his hard-won career on the line to open doors for other Hispanics. He has continued to break ground for over fifty years as a working actor. He was the first Latino to portray Zorro, the first Latino to win a Daytime Emmy for Best Supporting Actor and in 2012 he received the prestigious ALMA award for Lifetime Achievement from the National Council of La Raza (NCLR). "Henry Darrow: Lightning in the Bottle" is the must-read portrait of this inspirational, fiercely determined, endearing and enduring performer.
---
Follow Henry on Twitter: @HenryDarrow1
Please share this post.