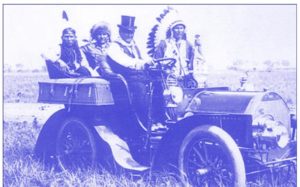 http://www.JanelleMerazHooper.com
When I wrote Geronimo, Life on the Reservation, a one-man show for Rudy Ramos, not all of my research made it into the show. There just wasn't space! This is one of the stories I had to leave out…
This photo was taken at a photo-op at the 101 Ranch in Oklahoma in 1905 (Geronimo died in 1909) while Geronimo was a POW at the reservation in Fort Sill, Oklahoma. Geronimo is wearing the top hat. The man next to Geronimo is Edward Le Clair, who was a Ponca. At the end of the day he gave his ornately beaded vest to Geronimo because the old warrior had admired it so much.  The same day he drove the car (a 1904 Model C Locomobile), photographers also wanted Geronimo to show them how he killed buffalo. He admitted that he'd never killed a buffalo. Someone finally killed the bison and Geronimo posed next to it to have his picture taken. It was a win-win. The photographers got their photo and Geronimo got his picture taken, which he loved. Note: When Geronimo died, he was buried in the vest. 
Rudy Ramos, starring in Geronimo, Life on the Reservation, will have two shows at the Western Legends Roundup in Kanab, Utah on August 25th & 26th in 2017. More info:
http://www.westernlegendsroundup.com/geronimo
---
I write in several genres. check out my books and stories!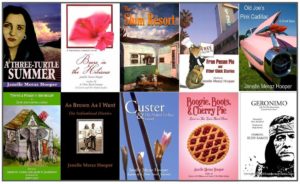 http://www.JanelleMerazHooper.com