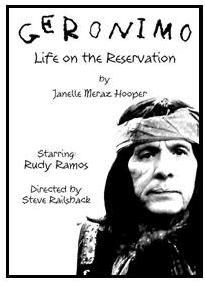 Rudy's shows in Kanab were a fabulous success and we got to meet many of his fans. 
Meanwhile, I'll be finishing up my NA (New Adult) novel, A One-Way Cruise to Africa. It's almost finished except for a few details and the cover.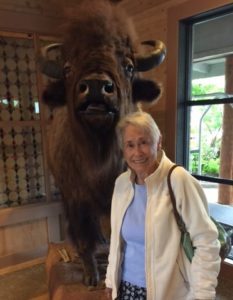 The author with one of her readers
www.JanelleMerazHooper.com
Note: My email in some places on the Internet and also on the backs of my books is outdated. Please write to me here: JanelleMHooper@comcast.net
Hello!
I grew up close to where the Indian reservations are and my writing is colored with my experiences growing up so close to Native American cultures. A lot of my books and short stories reflect this environment. I call them modern-day cowboy and Indian stories. Whether the book or story is Western or contemporary, it is character-driven. I don't do terror, bombs, or vampires. Also, you'll notice I'm not a formula writer; I write each story in the style that's best for that particular story, so each one is different. If you haven't guessed yet, I'm an I'm an indie writer! Most of my awards are listed at the bottom of this page.
My books are character-driven, with no F-words, vampires, or zombies. I promise! That's not to say they are totally-free of romance. I just left out the kind of sex that makes you cringe! Most are available in paperback (most easily found on Amazon) and all are available on Kindle. My A Three-Turtle Summer novel is suitable for adults only (it deals with divorce), but the others are suitable for all ages.
I love to read; one of the perks of writing is that I can explore my interests in marine biology, anthropology, and archaeology and call it research. Then, I can weave bits of the science and history into my stories and call it work! I call the whole process my briar patch, and I think Uncle Remus would approve.
I'm honored that WorldReader, Books for All!, a literacy project sponsored by Amazon, The Bill and Melinda Gates Foundation, Microsoft, and others, has chosen some of my books to be a part of their project to provide electronic devices to children in poorer countries. It really tickles me to think about one of my books about Native Americans being read by a child in Africa! India! Or China!
Although I was born and raised in Oklahoma, I now live in Washington State with my husband.
Review news!
I have a new review for my novella, The Slum Resort, on Amazon! Check it out!  The Slum Resort was an honorable mention in the 2013 Great Northwest Book Festival this year. It's a good read, I promise! See the Slum Resort on Amazon
More info about my Geronimo show: My one-man show starring Rudy Ramos: Geronimo, Life on the Reservation, based upon Geronimo's life after he was sent to the reservation, was a hit at the High Chaparral Reunion in Tucson on March 22, 2014. It's all over the Internet that Rudy (Wind on the High Chaparral TV series) got a standing ovation. There have been many shows since then, mostly in the Southwest and Los Angeles area. (Add  Albuquerque and Ft. Worth to the list of shows).   Rudy Ramos is on Facebook or visit him on www.GeronimoLifeOnTheReservation.com/ The show is entertaining and educational. It shows a different side of the great Apache warrior focusing on his life on the reservation after his surrender. Don't miss it if it comes near you!
Contact me:
email: JanelleMHooper@comcast.net
website: www.JanelleMerazHooper.com
Facebook: Janelle Meraz Hooper
Twitter: @JanelleMHooper
Pinterest: Janelle Meraz Hooper- My Pinterest boards not only have photos of my favorite things, but I store a lot of my research (in photos) from my writing there. It's a good look. Check it out!

Awards:
For : A Three-Turtle Summer
The 2002 Bold Media Award for fiction, 1st place.
For: As Brown As I Want: The Indianhead Diaries
1999 1st place fiction, Surrey (Canada)
2004 Oklahoma Book Award finalist.
For: The Slum Resort
2013 Great Northwest Book Festival, honorable mention
For: There's a Mouse in the House!
2013 1st. place (City Animals category) Animals! Animals! Animals! Book Festival
For: Boogie, Boots, & Cherry Pie, 2014 Animals, Animals, Animals! Book contest, Wild Card Division, honorable mention.