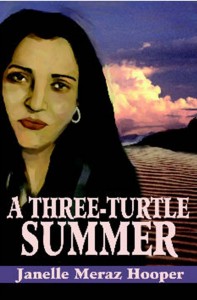 My website: Janelle Meraz Hooper
A Three-Turtle Summer
The first book in my Turtle Trilogy
…Grace has to dump a man who is meaner than a rattlesnake and dumber than adobe…
Fort Sill, Oklahoma, July, 1949
It was too hot to play cards, especially if someone were keeping score, and Vera was.
"Ay, carumba! You can't stand to go two hours without beating someone at something can you?" Grace Tyler playfully pouted.
Vera ignored her little sister, and began shuffling cards as she gleefully announced, "Senoras, the game is canasta, and we're going to play according to Hoyle." She began to deal the cards like a Las Vegas gambler while Pauline laughed and pointed at her mother, a notorious and frequent card-cheater.
Everyone was hot, but in her long-sleeved shirt and long skirt, Grace was sweltering. Sweat beaded up on her forehead and neck and she kept stretching her legs out because the backs of her knees stuck to her skirt.
"Gracie, for God's sake, go put some shorts on," Vera said.
Grace ignored her sister, pulled her shirt away from her perspiring chest and asked,
"Anyone want more iced tea before Vera whips the pants off of us?"
Momma and Pauline both nodded and Grace poured tea over fresh ice cubes while Vera got a tablet and pencil out of her purse.
The room was almost silent as each woman arranged her hand. Only Momma barely tapped her foot and softly sang a song from her childhood under her breath:
"The fair senorita with the rose in her hair …
worked in the cantina but she didn't care …
played cards with the men and took all their loot … awh-ha!
went to the store and bought brand new boots … "
"Awh-Haaa!" Grace's five-year-old daughter Glory joined in.
Paperback, Kindle (etc.) Suitable for adults. Bold Media 1st place award winner, novel category. iUniverse.
Book 2 of the Turtle Trilogy: As Brown As I Want: The Indianhead Diaries. iUniverse.
Book 3 of the Turtle Trilogy: Custer & His Naked Ladies. iUniverse. 
---
Please share this post!